Benjamin Moore Aura® Interior Paint
Aura delivers remarkable durability and offers the most advanced way to bring color to life. Using our exclusive Color Lock® technology, Aura paint brings you discernibly richer, truer color. Visibly thicker, Aura paint covers like no other—even in the deepest shades.
Aura® Bath & Spa Waterborne Interior Paint
With a beautiful matte finish, Aura Bath & Spa is a premium-quality interior paint specially formulated to resist mildew growth in humid areas such as bathrooms and spas.
Benjamin Moore Natura™ Waterborne Interior Paint
Natura Waterborne Interior Paint continues Benjamin Moore's commitment to providing the most environmentally friendly paint. Natura Paint emits lower total VOCs than other national zero-VOC products on the market, all without compromise to performance or colour selection. Natura is truly "Green Without Compromise™."
Benjamin Moore Regal® Select Waterborne Interior Paint
Regal Select offers the premium performance and smooth application you've come to expect from our classic paint, with the added benefits of cutting-edge new technologies. Thanks to our proprietary waterborne resins and zero VOC colourants, Regal Select is both a paint and primer in one advanced formula.
Benjamin Moore Kitchen And Bath Paint
Kitchen & Bath is a top quality, 100% acrylic satin finish enamel designed for use in kitchens and bathrooms. It is ideal for use over clean, gloss surfaces, and resists the growth of mildew even under humid conditions.
Benjamin Moore Collection® ADVANCE Interior Paint
ADVANCE offers the application and performance of traditional oil paint in a waterborne formula that cleans up with soap and water. It is a 100% alkyd formula water-dispersible alkyd developed with proprietary new resins that keep VOCs low even after tinting. It flows and levels like a traditional alkyd with the extended open-time required to achieve high-end finishes. ADVANCE is available in unlimited colours, giving you more ways than ever to achieve the perfect look on every job.
Ben® Waterborne Interior Paint
Ben offers the Benjamin Moore standard of performance while meeting the specific needs for an entry level premium product. Ben offers a low VOC product without sacrificing the consumer's desire for quality.
Benjamin Moore Ultra Spec SCUFF-X
A high-performance, one-component latex coating specifically engineered to deliver outstanding performance and protection for the toughest high-traffic areas in busy commercial spaces. This breakthrough product offers superior durability and scuff-resistant properties than traditional 2-component coatings, pre-mixing, short pot-life and application difficulties related to similar products. This paint will retain its high-quality appearance much longer with minimal maintenance.
Benjamin Moore Eco Spec WB Paint
A low odor, zero VOC (Volatile Organic Compounds), 100% acrylic interior latex eggshell finish that is high hiding has excellent touch up and a uniform eggshell finish. Eco Spec® WB Interior Latex Eggshell Finish is ideally suited for commercial, facility management and residential applications.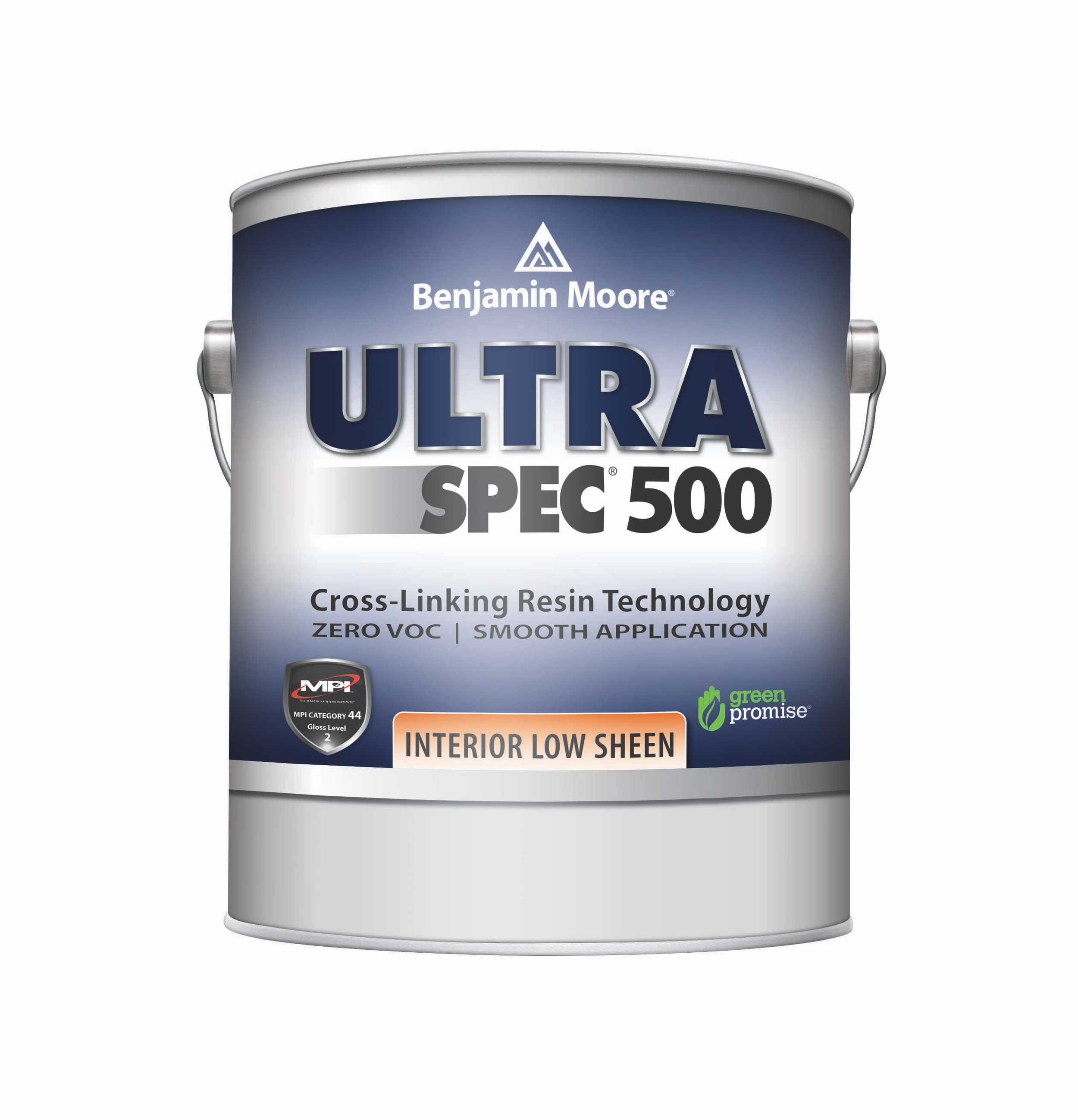 Ultra Spec® 500 — Interior Paint
Zero-VOC Ultra Spec 500 is a professional-quality interior coating designed to meet the needs of professional painting contractors, facility managers, and property managers. Available in a wide range of sheens and unlimited colours, professionals will appreciate its excellent hiding and touch-up properties, good flow and levelling, easy application, and soap-and-water cleanup.